Strategy management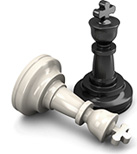 The value of strategy is to sustain and improve the performance of your business. Strategy mitigates the risk of going out of business, or of not reaching the potential of your business.
The right strategy can make your business soar whilst the wrong strategy can make it flounder, or fail.
Setting strategic direction
Setting the strategic direction of a company is the responsibility of the board. Once set, charting the course and keeping the course to achieve the strategy is an executive and senior management function. So too is maintaining strategic alignment across the silos and processes that make up your business.
Your strategic process
How effective is your company's strategic process? It may be that you do too little, or the wrong type, of strategic analysis before setting your strategy or that you do too much analysis and never manage to get going. Both are harmful to your business. How well do your board, executives, and senior management understand the strategic process? Strategy development is a business discipline that is often poorly understood and inadequately performed.
Become a StrategyFox™
Retlaw Fox can assist you in developing meaningful strategy. Independent specialist facilitation can be very useful to your business, as internally-led facilitation seldom results in the level of strategic thinking, courage and engagement required. Developing strategy cannot be done in a morning just before tee-off. It is a disciplined process that requires proper preparation and engagement within the business, before getting the board or executive team together for a "strategy session".
Make your move
An appropriate strategy, which takes into account your particular circumstances and organisational position, can take your business to the next level. If this is what you desire for your organisation, Retlaw Fox can help you achieve it through our specialist strategy training, strategy advisory, and strategy interim management services.